Today Donna from Whole Food Bellies is going to share a recipe for Banana Berry Nice Cream. It is so simple to make and it tastes delicious!

ABOUT DONNA


Hi I am Donna. Mom of two adorable little food monsters and wife to one big monster. For the last few years I have taken my little family on a whole food journey; and I blog about it. I share family friendly clean eating recipes, tips and tidbits about our experience along the way.





I aim to create happy people and happier bellies by encouraging people to cut out harmful processed foods from their diets and indulge instead in delicious and easy to prepare whole foods. I am a firm believer in the 80% rule; as long as we are eating well the majority of the time, a few treats here and there aren't going to hurt - i.e. if I happen to make it to Paris there's no way I am going to be missing out on fresh croissants :)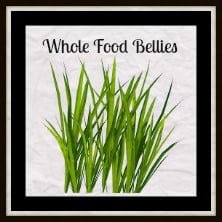 TAKE IT AWAY, DONNA!


Summer is well on it's glorious way! I don't know about you, but I cannot wait. I am sure once it gets here I will complain about the 100 degree days….but for now I am excited! At least this year I am not heavily pregnant :)




For me, as I am sure it is for a lot of people, summer brings flashes of splash pools and ice cream. There is nothing better than sitting in the backyard, as the evening starts to cool off, and enjoying some ice cream with the family. Homemade ice cream just makes it so much more special.
This is my little one's favourite treat of all time. She calls it 'ice cream mummy made you'. No matter how many times I have told her just to call it ice cream, it always gets the special title. And I love it :)
With only 2 ingredients, it could not be simpler! I used Roasted Strawberries for this batch because it just adds an extra depth of sweetness which I love, but if you are pushed for time you could definitely throw some fresh/frozen strawberries in there and it would still be delicious!
It's:
Dairy Free
Raw
Vegan
Super Simple
Delicious
Bonus: it's healthy so you can totally justify having ice cream for breakfast. Just throw some granola, nuts and/or coconut flakes on there and call it a day. I won't judge...mainly because I can guarantee I will be doing the very same thing!
Tip: Make sure you always have frozen bananas on hand during summer. I buy the over-ripe ones they are selling off cheap at the markets and freeze them straight away. You never know when the need for banana ice cream will hit and they are also a great addition to smoothies.




What's your favourite thing about summer? Do you love ice cream as much as we do?





INGREDIENTS




5 ripe bananas (the riper the better)




1/2 cup frozen strawberries or roasted strawberries for extra punch (roast whole hulled strawberries in the oven for 50 minutes at 250 degrees)





HOW TO




Take 5 ripe bananas, peel them, cut them in half and add to a plastic freezer bag. Freeze overnight until solid.




Cut the frozen bananas into half inch chunks and throw them into a food processor. Process for 30-45 seconds until smooth and creamy.




Throw in the strawberries and pulse for a few seconds until combined to your liking.




Serve and enjoy.





It is super creamy if served straight away but can be frozen - it just won't be as creamy.





Donna @wholefoodbellies.com




Thanks so much for your post, Donna. I know my children cannot get enough of this recipe and I know my readers won't be able to either!

Labels: recipe